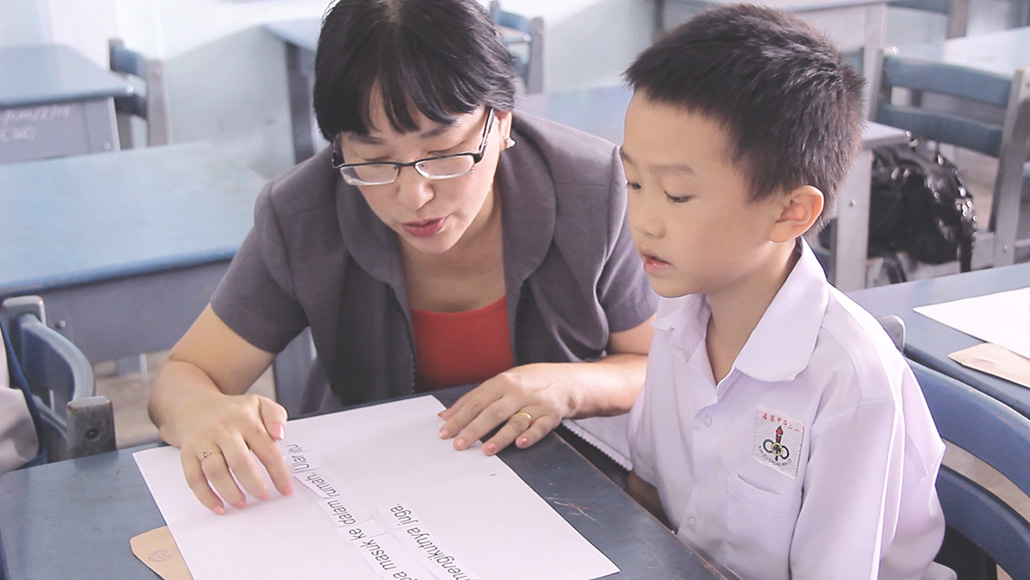 Program Features
[accordion][accordion_item active="" icon="" title="Practical language skills" accordion="accordion"]Lesson scope focuses on words and terms that can help improve their comprehension in all subjects especially Mathematics and Science.[/accordion_item] [accordion_item title="The values in learning" accordion="accordion"]Activities emphasizes being a good student and not just knowing information.[/accordion_item] [accordion_item title="Conducted in small groups" accordion="accordion"]1 volunteer teacher to every 5-6 students. This approach is a key feature of the program and has proven to be effective.[/accordion_item][accordion_item title="Team effort" accordion="accordion"]Parents, teachers and volunteers work closely together to create a supportive community for the students.[/accordion_item] [/accordion]
Hope Literacy Program
Hope Literacy Program is aimed at disadvantaged students who struggle to keep up in class by solving the root problem of poor language competency.
In the year 2009, Eden partnership with local schools to provide free tuition to selected students. The effort came from the realization that there was a group of students who, despite being intelligent, were performing badly in class. The root of the problem was discovered to be poor language competency in English or Bahasa Malaysia. This prevents students from understanding the lessons taught. These students who have great potential were not only losing out in the classroom, but were at risk of losing interest in learning altogether.
Students who attend the program are understandably demotivated and perhaps even insecure. But special care is taken to tailor the program not just to their academic needs, but also their needs as a child or youth. The person in charge of designing the program is Ms. Khoo Hui Ying, who has a Bachelor of Science Psychology (Honours) degree from Brunel University West London.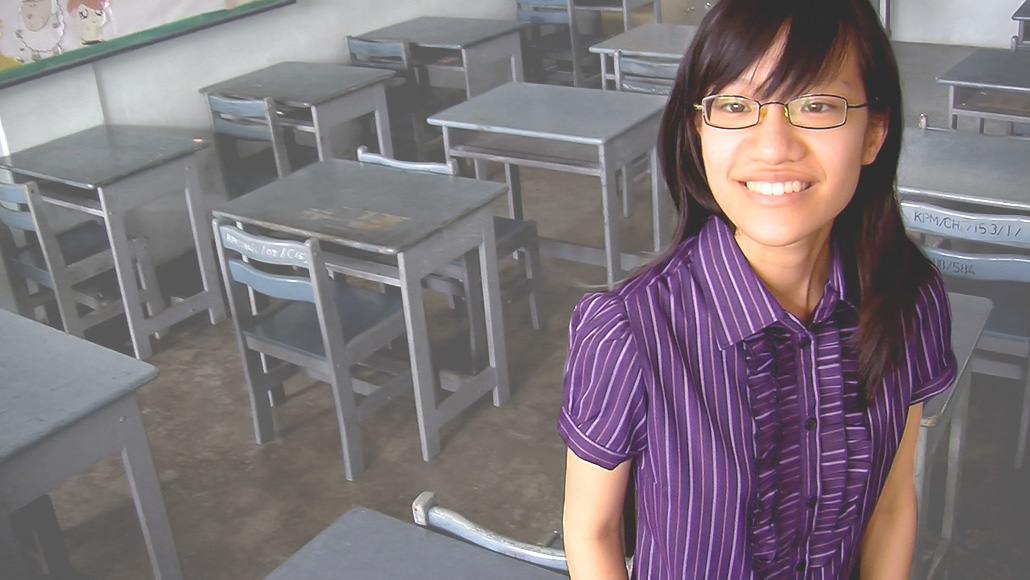 Program Director
Ms. Khoo Hui Ying
"We capture our students attention by conducting the lessons in small groups and incorporating plenty of fun games and interesting stories that are based on the Character First syllabus. This helps to motivate them and inculcate the necessary character values that will help keep them learning."
Going The Extra Mile
We do not just want them to improve their language competency, we want them to want to improve. Because, if we make sure that they have a positive learning attitude, then we can be sure that they will practice and apply our lessons during school classes. This will not only help them improve their school grades, but remove that sense of helplessness and replace it with hope.
Ms. Khoo along with parents, school teachers, and volunteer teachers work closely together in order create the supportive environment needed for Hope Literacy Program to be effective. The hour long sessions are held in participating schools weekly at no charge to the students. Depending on the needs of the students Hope Literacy Program classes either focus on English or Bahasa Malaysia. The results of each batch for the past 5 years have been extremely encouraging, causing more schools to request for the program each year.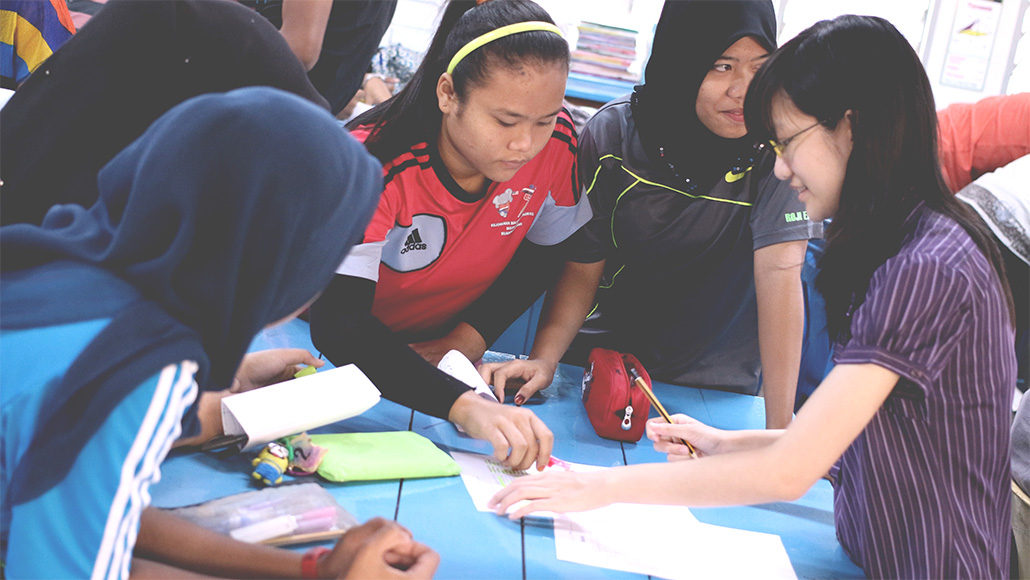 Hope Literacy Program at SMK Tun Hussein Onn.
To keep this program running, Ms. Khoo has to communicate with the volunteer teachers and school teachers to gain feedback on the student's response in order to make adjustments to better benefit the students. On top of that, she has to arrange for volunteers to assist her as most volunteers are individually sourced for each lesson. With Hope Literacy Program running in three schools this year, namely SJK (C) Chong Hwa 2 (elementary school) and SMK Tun Hussein Onn (secondary school), the task at hand is immense.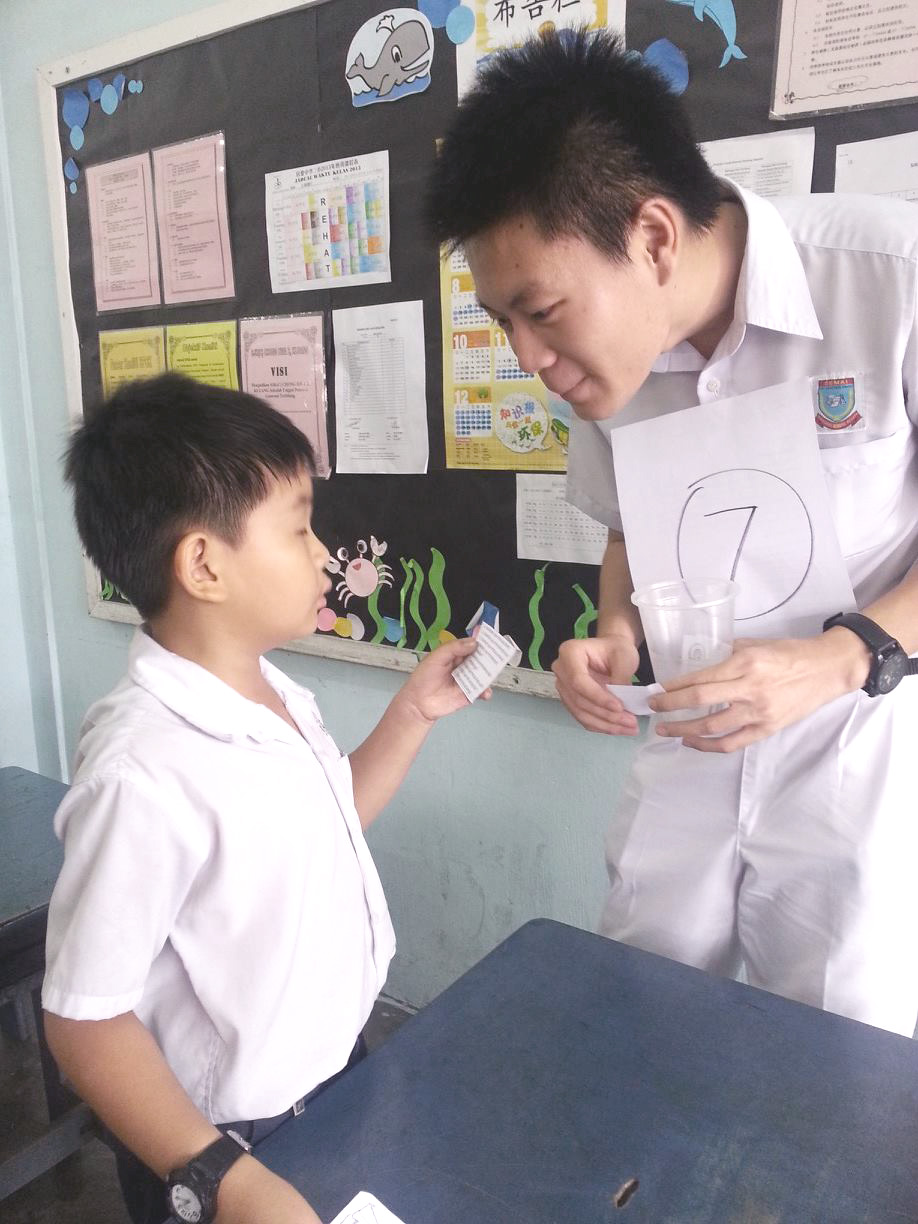 A Volunteer Teacher helping at SJK (C) Chong Hwa 2.
Thankfully there has been a steady stream of students, young adults and retired teachers, who join the program as volunteer teachers. These volunteer teachers help keep the teacher to student ratio small. Ideally, the program prefers 1 volunteer teacher to every 5-6 students. This small teacher to student ratio help give each student much needed attention and has shown to have a positive effect on students. The students know they are being heard and are thus more attentive and willing to take part in the lesson. It has also helped the teachers meet each student's needs as the groups are small. This is a key feature of the program and has made a significant difference.
Having lessons in such small groups requires a large number of volunteer teachers. With the program relying almost entirely on volunteers to serve the 50 students currently in the program, finding enough volunteer teachers is quite a challenge. Most volunteers are unable to commit to the program long term, thus requiring intense scheduling and sourcing of volunteers weekly. That is a time consuming task, but it is necessary until more people join our pool of volunteers.
Participating schools do give a small amount to Eden as a token. For the most part, program costs are borne completely by Eden through donations from the public to. However, as the program has grown over the years, additional funding is required.
It has been a challenging yet rewarding 5 years since this program started. Many children have grown out of this program, improved and more confident than when they first came in. We see the value of giving hope to these disadvantaged students because every student is precious.


Count me in!
Regular command of English and Bahasa, or Mandarin and Bahasa required. We will send you weekly updates which you can reply to confirm your participation. Interview necessary for volunteers new to the program.
[accordion]
[accordion_item title="Volunteer Form" accordion="accordion"]
[/accordion_item]
[/accordion]
Make a donation
* All donations are tax exempted.
How your contribution helps
Your donation impacts the students directly for the entire year, as it will be used to:
Purchase learning materials
Hire a full-time Program Director to plan, run and manage the program
Help shoulder transport costs of volunteers
Bear fundraising and administrative costs